Has a Death Occurred? We Are Available 24/7
(843) 501-9441
Live Chat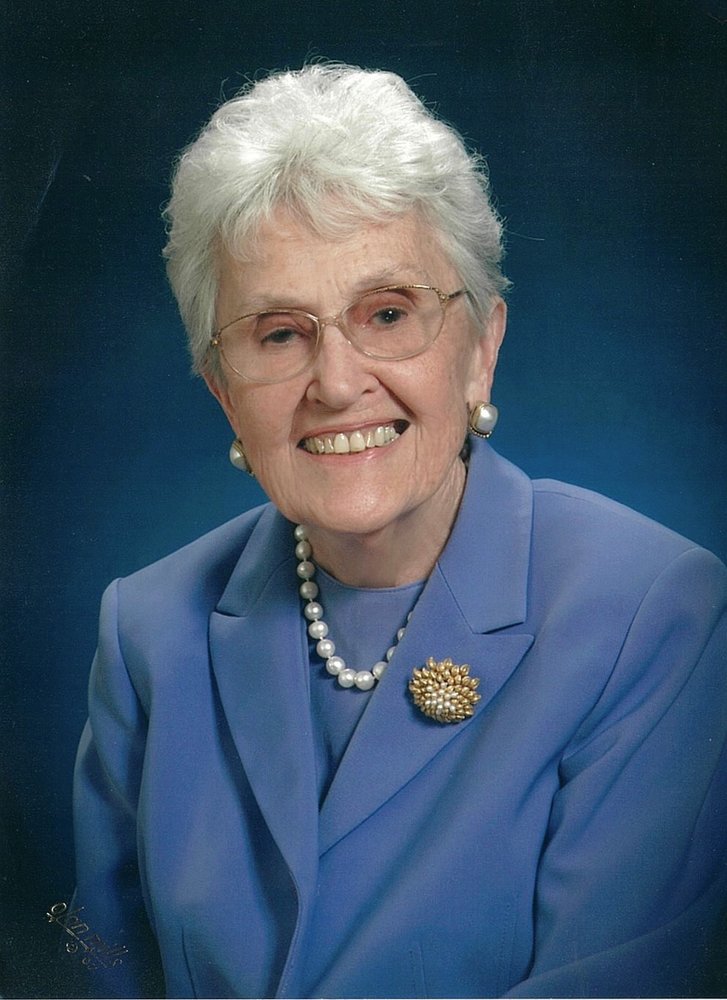 Obituary of Lois Herring Richardson
Lois Herring Richardson went to be with the Lord peacefully in her home on March 19, 2021. Lois was born to Russell Henry Herring and Mary Collins Herring in Monticello, Florida on July 29, 1919. Lois was preceded in death by her husband, James Norris Richardson, Sr. and her youngest son, Rodney "Collins" Richardson.
After graduating from Business School with an Accounting degree, she married the love of her life, James Norris Richardson, Sr., a successful grocer in Thomasville, Georgia. They had three children, Mary Katherine, James (JR) and Collins. Norris prospered in the grocery business with Lois at his side. They vacationed on remote Hilton Head Island with their family in the early 1950's, visiting Norris' youngest brother, James Arthur Richardson, Jr. and his father, James Arthur Richardson, Sr.
Subsequently, Norris surprised Lois with the news that he had purchased land on Hilton Head Island in 1955. He sold his five grocery stores in Georgia, barged building supplies, and built the first grocery store on Hilton Head Island in the Coligny area. Their grocery store, the Forest Beach Supermarket, was built on the site where the Piggly Wiggly is currently located in Coligny Plaza Shopping Center. Lois and Norris arrived before the bridge opened. They are considered Island Pioneers, as few people lived full time on Hilton Head Island at that time.
When they moved to Hilton Head Island, they believed they were moving to a tropical paradise as they had only visited in the summers. They painted their oceanfront cottage pink and did not install heat. After the first winter, they quickly realized the error of their ways! Lois loved to talk about the early days and her experiences of living on a remote island. The beach was her front yard and she enjoyed watching her children grow up chasing fiddler crabs, swimming in the ocean and building sandcastles.
Lois wrote a little sign by the cash register of their grocery store inviting anyone to come for Sunday School classes and Church services in their home on Bayberry Lane in the South Forest Beach neighborhood, just down the road from Coligny. Many Island visitors and residents enjoyed Sunday school in the Richardson home. Lois' faith was an example for her family and community. She believed in always putting Christ first, which is what gave her strength. Worship Services in their home were the beginning of what is now The First Baptist Church on Hilton Head Island.
Lois Richardson was active in the First Baptist Church, helping secure the land where the church was built in South Forest Beach. She was involved in all facets of the Church's organizations, giving her time generously. She started a Bible Study that has continued for more than sixty years in her home. She continued to have her Tuesday Morning Bible Study in her living room until last March when it was interrupted by Covid-19. Lois was also a founding member of the North Island Baptist Church. She was passionate about sharing the love of Christ and missionary work with others.
Lois started the first home rental company on the South end of Hilton Head Island. She and Norris were very creative. Every time they perceived a need on the Island, they added another building to what would become Coligny Plaza Shopping Center, the downtown of Hilton Head Island. They created a lot of firsts: Hilton Head Island's first grocery store, bakery, hair salon, clothing store, laundromat, dry cleaners, car wash, ice cream parlor, South end post office, bike rental, fast food (a short-order restaurant called The Fin & Feather), and even the first Hilton Head Island real estate office. Coligny Plaza even had the Island's first pharmacy, completed and stocked before the Island's first pharmacist, Joe Capin, had been hired. Fortunately, Joe Capin was visiting the area and noticed the "pharmacist wanted" sign in the shop's window and applied for the job.
Early on, a customer came in their tiny grocery store and filled up two buggies of groceries and instantly became their best customer. That customer was Charles Fraser, who had just graduated from Yale Law School and had moved to the Island to develop Sea Pines. Through those encounters, Charles learned that Lois was an accountant and hired her to do his books, becoming his first employee. A friendship started between the Richardson and Fraser families that continues to this day.
When Lois' third and youngest child, Collins, became ill with kidney disease, she donated one of her kidneys to save his life. At the time, he was the longest living kidney transplant recipient. Ultimately, he succumbed to the disease when he was just seventeen. Lois was honored by the Town of Hilton Head Island with a Commendation for her many contributions to Hilton Head Island and for being a living organ donor during National Donate Life Month in 2014. Lois lived over sixty years with one kidney.
Lois was a behind the scenes organizer for so many positive events on Hilton Head Island. She softly encouraged people to get involved, make a difference and follow their dreams. You could always count on kind words and prayers from Lois Richardson. She has quietly served as a role model and mentor to so many people throughout her life. She has been honored with a variety of awards over the years.
In her book, Love Letter to my Children, Lois wrote, "Life has not always been easy, but when God is present in one's life, He gives us the strength and endurance to overcome all our fears. By His light, I walk through darkness. I have learned that true happiness is centered in our fellowship with God."
Lois is survived by her sister Frances Herring Wurst of Ohio, daughter Mary Katherine Toomer of Hilton Head Island and son James N. (JR) Richardson, Jr. of Hilton Head Island (Leslie) and seven grandchildren: William S. (Bill) Toomer, Jr. (Sandy), Cindy Toomer Hampton (Danny), Lisa Toomer Dershimer (Doug), Keith Brian Toomer (Doreen), James N. Richardson, III, Collins Westberry Richardson and Forest Barry Richardson, and seven great grandchildren: Sarah Katherine Hampton, Danny Stephen Hampton, III, Mary Katherine Dershimer LeGrand (Andre), Elizabeth Annie Dershimer, Caroline Grace Dershimer, Savannah Rose Toomer and Angela Toomer Vasilas.
The family requests in lieu of flowers, those who would like to express sympathy to make a donation in Lois's name to the First Baptist Church of Hilton Head Island or to Second Helpings to fight food insecurity in our community.
Due to Covid-19, the family will hold a private burial and will have a Celebration of Lois's Life at a future date.


Share Your Memory of
Lois