Has a Death Occurred? We Are Available 24/7
(843) 501-9441
Live Chat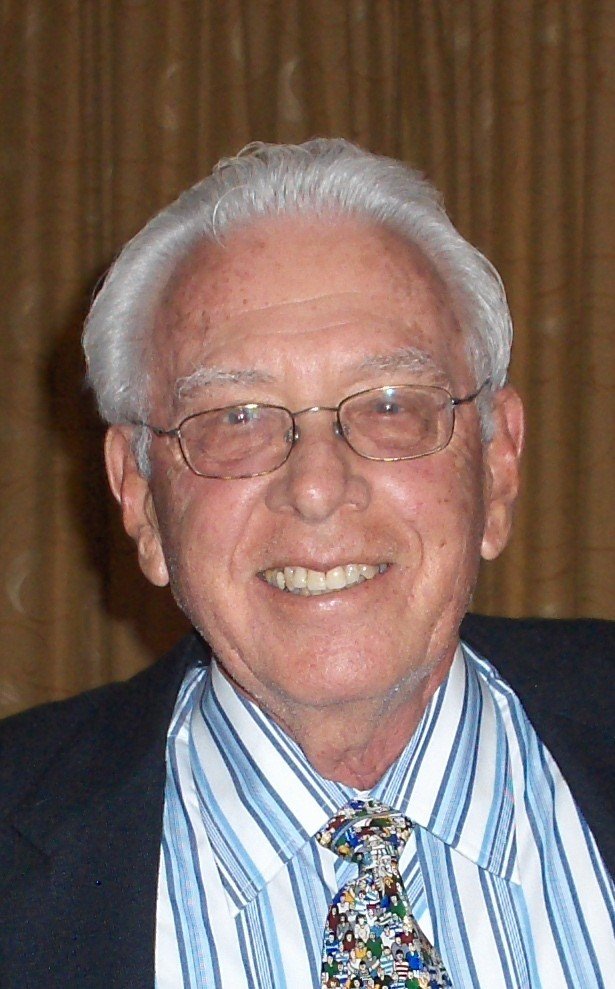 Obituary of Irwin Lindenbaum
ODE TO OUR FATHER, IRWIN (LINDY) LINDENBAUM
2/22/1927-1/11/2020
A child was born on a cold Brooklyn night
A child unlike any other,
Instantly loved by Jenny and Abe
And Melvin, his five-year-old brother.
The child grew older with a wit all his own
A jokester they've all come to tell,
With a smile on his lips and a spark in his eyes
He was known to raise his share of hell.
On through his youth and into his teens
It was clear what the next step should be,
With war being fought in countries abroad
Irwin went and joined the Army.
Home to New York a lot older and wiser
Irwin came to face a new life,
He signed up for college to foster ideas
And fell in love with his soon-to-be-wife.
Laura had beauty and talent as well
Her ambition was what Irwin needed,
So both forged ahead and worked very hard
And together it seemed they succeeded.
Their solitude ended, two became three
A child to both of them came,
With a beauty her own, and a voice like a Robin,
The child was so aptly named.
Two years later, Randi was born
Making the family four,
And in the same year, Lindy's was formed
The name of their first retail store.
David came next, a beautiful boy
To carry the Lindenbaum name,
Alison's last and the family's complete
Together but never the same.
Now the children are grown, all married and well
Eleven grandkids made them smile
But Lindy and Laura seemed not to change
They aged with grace, humor and style.
Sitting at work day after day
Lindy dreamed of tennis instead,
So they packed all their bags and jumped in the car
And moved south to Hilton Head.
Lindy played tennis and Laura did, too
They made friends throughout the land,
And Lindy would watch and listen with pride
When Laura performed on her baby grand.
Laura fell ill, Alzheimer's they said
Lindy stayed by her side till the end,
Then found the peace he'd been searching for
When he realized he'd lost his best friend.
A room in a church with a group of adults
He could hear laughter, music and chatter,
That was the day he found a new home
That was the day he found Memory Matters.
For twelve short years, never missing a day
He was voted their star volunteer,
His passion, his warmth and quick with a joke
Are the reasons they'd stand up and cheer.
Our father was born on a cold winter's night
A star must have been shining above,
A man unique in his ways, with so much to give
Especially his heart filled with love.
Lindy leaves four children, Robin Sills (Richard) of Danbury, CT, Randi Selman (Aaron) of Bluffton, SC, David Lindenbaum (Rhonda) of Marlboro, NJ, Alison Tannenbaum (Ross) of Boynton Beach, FL; eleven grandchildren all with spouses or significant others; eight great-grandchildren, and loving cousins, nephews and nieces.
A celebration and remembrance of Lindy will be on Saturday, February 1 at Memory Matters, 117 William Hilton Parkway, Hilton Head, from 2:00-4:00 p.m. In lieu of flowers, please make your donations to
Memory Matters, PO Box 22330, Hilton Head Island, SC 29925.
Islandfuneralhome.com.
Celebration of Life
2:00 pm - 4:00 pm
Saturday, February 1, 2020
Memory Matters
117 William Hilton Parkway
Hilton Head Island, South Carolina, United States
(843) 842-6688


Share Your Memory of
Irwin