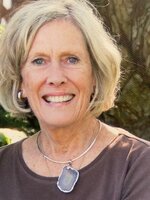 Patricia Caughey "Pat" Coker
Patricia Caughey Coker, wife of William Thomas Coker, died peacefully at home on Hilton Head Island at the age of 80 years old.
Pat was born October 8, 1942, in Washington, DC. She is predeceased by her parents, Major General and Mrs. John Hart Caughey and her son Brendt DeWitt Coker.
She grew up in various cities in the world due to her father's rising military career. She graduated from Washington and Lee High school in Arlington, VA, and graduated from Florida Southern University in Lakeland, FL. While in college, the always venturesome Pat twice jumped out of an airplane while her Dad was going through Jump Training as part of the Leadership at Fort Bragg, NC.
Pat enjoyed a long career in the food business as a Food Industry Professional, starting with working in the test kitchens of Quaker Oats. She was selected by the best food retailers in specific areas to put on seminars for food styling events for employees and customers like Byerly's in Minneapolis, HEB in TX, Schnuck's in St. Louis, and Dominick's in Chicago.
She later started a successful business in Darien, CT preparing gourmet hors d'oeuvres for private parties.
She then moved to Nashville, TN, and led a team at CF Marketing, a company dedicated to food styling and preparation for a host of companies. She had the honor of publishing recipes for Southern Living and Cooking Light Magazines. She worked for the National Cattlemen's Beef Association in a similar capacity for years.
Pat was involved in many community activities. She was President of the Children's Hospital Auxiliary and President of the Herb Society in Nashville and Little Rock, AR, for example.
She and Bill raised two children, a daughter, Shawn Bowman Smith, and a son, Brendt DeWitt Coker, who died in an auto accident in 2009. In addition to Shawn of Ithaca, NY, and her husband Henry and their son, Hugh, Pat is survived by Bill, her husband of 52 years; her sister Nancy LeVine of Darien, CT, and her husband Larry and their children and grandchildren; her sister Judy Daugherty of Washington, DC, and her husband Darrell and their son and grandchildren; her sister Kate Mack of Santa Rosa, CA, and her husband Jerry and their children and grandchildren. She is also survived by Paige Coker of Charleston, SC, Brendt's widow, and their children, Bennett and Kate Coker.
In addition to raising two wonderful children, Pat found the time and talent to be a busy homemaker and her family resided in 16 different homes over the years. She designed two of their homes from the ground up.
A memorial service is planned for family and friends at 3pm on December 8th, at First Presbyterian Church, 540 William Hilton Parkway, Hilton Head Island, 29928. The service will be followed immediately with a reception at the Coker Residence at 5 King William Court, Hilton Head Island, 29926.
In lieu of flowers, contributions may be sent to Memory Matters, PO Box 22330, Hilton Head Island, SC 29925.