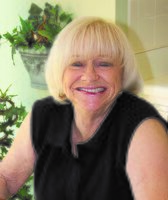 Susan Jane Ham
Long-time Hilton Head resident, Sue Ham, passed away at her home after an extended illness. She was lovingly cared for by her daughter, Katie, and husband, Bob.
A true southern lady, Sue was a woman genuinely full of joy with boundless energy. A wonderful cook, she loved doting on her family. She always had a beaming smile on her face, moved with zest, lived selflessly, and never wasted a minute down or complaining. She had an infectious love for life, her family, and her cats.
Born in Blairsville, GA, she lived most of her life in South Carolina. She and Bob spent several years in Dallas, TX in the late 70s before returning to South Carolina. It was the only big city she ever lived in and she absolutely loved it. She and Bob also loved to travel. She had a long career as an interior designer. She worked for many years at the Van der Meer Tennis Center where she met people from far and wide who were drawn to her friendly nature, many sending her cards and letters for years and making a point to see her whenever they were back on Hilton Head. She shared her smile and friendly nature where ever she went. She greeted clerks and cashiers in the stores she shopped at as old friends, to her they were. Her life was an amazing journey to be celebrated, admired, and aspired to.
She is survived by her husband of 70 years, Bob; her daughter Katie Satterfield of Hilton Head; her son, Sam Ham and his wife Sue of Atlanta and Hilton Head; her son Ben Ham of Bluffton; granddaughters Lea Yarbrough of Atlanta, Liz Ham of Atlanta and great-grandchildren, Hunter, Audrey, and Cameron.
She was devout in her faith, reading her Bible daily. She and Bob were baptized together as they started their journey as man and wife. It is with complete conviction that we can say she would not want us to be sad over her leaving, rather we should celebrate her life and be thankful that we had a part in it. Share a smile with those you cross paths with as she always did.
It is her and Bob's wish that their cremated remains be commingled when both have passed and be buried in the Ham plot in Gainesville, GA so they can spend eternity together as they have these past 70 years. No service is planned until that time. Donations in her honor can be made to the Hilton Head Humane Society. Islandfuneralhome.com.