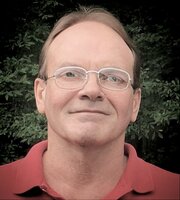 Christopher Preisner
Christopher Preisner, 61, of Bluffton, SC, passed away peacefully on November 2, 2022.
Raised in Old Saybrook, CT, Chris was the son of Patty Preisner and the late Benjamin Preisner, Jr. After high school, he went on to the Navy and eventually became a framer, working in both Connecticut and South Carolina. Later in life, he took pride in his work as the director of production at Mister Ben's Amazing Pet Products.
In addition to his mother, Chris is survived by his children, Julie Anne and Michael Patrick Preisner, both of Connecticut, and their mother, Laura Corning; and his brother, Benjamin Preisner of Bluffton. Chris was predeceased by his beloved girlfriend, Sharon Hammar, who passed away earlier in 2022. Chris was loved and will be missed by all who knew him.
A Funeral Mass will be celebrated at Saint Gregory the Great Catholic Church, 31 Saint Gregory Drive, Bluffton, SC 29909 on December 15, 2022 at 10:30 am, and will be followed by a procession to the columbarium and then a reception honoring his life at the Church Hall.
The family requests that donations be made in the memory of Christopher Preisner to The National Fragile X Foundation, 1012 14th Street NW, Suite 500, Washington, DC 20005, or by https://fragilex.org/donate/.