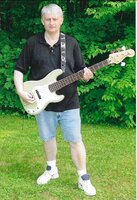 Carl John Pittman
Carl John Pittman, passed away on September 14th, 2022 on Hilton Head Island, South Carolina. He was born January 1, 1951, to David and Christine Pittman in Lancaster, Virginia. He was surrounded by family and his long-time partner, Karen West.
He is preceded in death by his parents and his brother David Pittman. He is survived by his daughters Tracy Stephan and Melanie Ali, their husbands Matthew Stephan and Shujait Ali Chouhdary; and his grandchildren Samantha Stephan, Molly Stephan, Alexander Ali, and Sara Ali.
Carl worked Computer Security for Fairfax County Public Schools in Virginia for 35 years. He was well-known throughout the office for bringing humor and hi-jinks including dress-up days and his infamous Halloween costumes.
His hobbies included participating in and watching sports (basketball, football, bowling, softball, golf, tennis), playing games with his grandchildren, spoiling his 'grand dogs', playing the bass guitar, and singing in his much loved Oldies bands, "Gold Rush" and later reincarnated in the "Stuck in the Past."
If you were lucky enough to know Carl, you know he would do anything for his friends or family and made friends wherever he went. He was full of life and went "all in", never doing anything half-way.
He will live on through the memories of those who knew and loved him. We will remember his competitive spirit, his jolly laugh, his singing voice …
The family will hold a celebration of life at a later date.