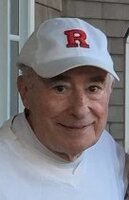 Edward R. Turro
Edward R. Turro, a long-time resident of Hilton Head, died peacefully with his family by his side on December 27, 2021 – one day after his 95th birthday.
A World War II Navy Veteran, he was a skiing, sailing and golf enthusiast who enjoyed the outdoors. A graduate of Rutgers University and Newark College of Engineering, he worked for Western Electric until his retirement in 1981. After moving to Hilton Head, he sold real estate for Sea Pines.
He was preceded in death by his wife Dawn and is survived by his daughter Stacey Grahn and grandson Lucas Grahn of Tampa, Florida and his son William Turro of Los Angeles, California.
A memorial service was held at Broad Creek Care Center. He will be interred at Six Oaks Cemetery in Sea Pines.