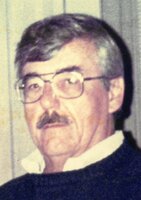 William "Bill" Rathert
William (Bill) Rathert of Hilton Head Island died September 9, 2021. He was born in Watertown, WI on January 29, 1932 to Frances (Limmerhirt) and William Carl Rathert.
Bill graduated from the University of Wisconsin, Madison with a degree in chemical engineering. He served in the Army during the Korean Conflict as a 1st Lt. During his business career with B.F. Goodrich (chemical division). He was transferred to Mexico City where he met and married Edna Marbury "Eddi" who was on a layover at that time, with a major airline. They were married for fifty-three years. Their son Billy was born in Mexico City.
Several moves first took them to Louisville, KY, then to Valencia, Venezuela and later to Caracas where he worked for J.M. Huber Corporation until they retired and bought a beach house on Fripp Island. Bill enjoyed many years there golfing and playing bridge. In 2015, they moved to the Seabrook on Hilton Head Island.
Bill is survived by his wife Eddi, son William Christopher Rathert of Beaufort, SC, brother Jack (Carolyn) Rathert, two nephews John and Dan and their children, all of Anchorage, AK.
As Bill requested, there will not be a religious service. He will be inurned in the columbarium on Fripp Island with limited family present.
Anyone wishing to make a donation to VIM (Volunteers in Medicine), HHI, would be greatly appreciated.