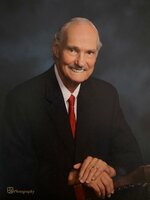 Donald C. "Don" Bell
Donald "Don" Clifford Bell, age 86, of Hilton Head Island, SC, and beloved husband of Alicia Olea-Bell, passed away peacefully surrounded by his family on Sept 6th, 2021.
Don will be remembered by his loving family; his wife of 54 years Alicia Olea-Bell, his son Donald "Scott" Bell (Jeff Chatlos) of Boston, MA, his daughter Denise Spero and his grandson Sean Spero of Cary, NC. He was a beloved uncle and cousin to the Haynes and VanDerBeek families. Don was industrious, humble, kind and loving.
He was predeceased by his parents Donald and Ruth (VanDerBeek) Bell and his sister Joan Haynes. Don was raised in New Rochelle, NY, and had a happy childhood with summers spent at their family home on Cape Cod.
During Don's youth, he had a love of exploring destinations like Europe and Mexico, by car and motorcycle. His passion for motorcycles spurred him to be a competitive trophied motocross racer. A patriot, Don entered the Navy Reserves and later the Air Force Reserves and served for 35 years.
Don and Alicia raised their children in Fishkill, NY where they were members of the Chelsea Yacht Club in Chelsea-on-Hudson, NY. His career as a civil engineer for the New York State Department of Transportation ended when he retired after 40 years of service. His interest in philanthropy led him to be president of the Lions Club in Wappingers Falls, NY. An avid carpenter, Don shared his carpentry skills with the Reserve Corps and his son Scott.
Their love of sailing and tennis brought Don and Alicia to retire in Hilton Head Island where they were active members of the South Carolina Yacht Club. They enjoyed participating as timekeepers for the sailing events during the 1996 Summer Olympics in Atlanta.
Don had a special interest in family ancestry and was a Huguenot descendant. One of the highlights in Don's later years was a trip to his ancestral home of Scotland with his son Scott.
There will be no services held at the request of Don.