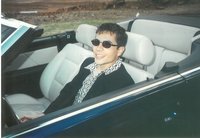 Ryan Anthony Chancio
Ryan Anthony Chancio, 47 was born on May 15, 1974, in Toledo, Ohio to his parents Frank and Linda Chancio. Ryan passed away at his home in Hilton Head Island, SC on Sunday June 13th, 2021, under the care of Hospice Care of the Lowcountry.
Ryan grew up in Naperville, IL but lived in many different cities due to his father's career. He attended Providence College, in Providence, RI after graduating from Benet Academy in Lisle, IL. He also attended University of Georgia. After his father's stroke in 1996 Ryan ran a family business in Buckhead with the help of his brother, Rik.
Ryan was a stockbroker and worked in the World Trade Center. He moved back to Hilton Head two years prior to 9/11.
Ryan was an avid sports fan rooting for the team wherever he lived but …the Chicago Bears and the Cubs were in the forefront with the Pittsburgh Steelers not far behind. Ryan enjoyed playing tennis at Benet Academy, winning an East Suburban Catholic conference doubles championship.
Ryan volunteered as a lector at St. Francis Catholic Church in Hilton Head; was a religious education volunteer on Sundays for 1st and 2nd grades, and a member of the Knights of Columbus. Earlier in life, Ryan was an altar boy at St. Margaret Mary Church in Naperville.
Ryan is survived by his mother, Linda Chancio of Hilton Head Island, his brother, Rik, sister-in-law, Sandra and nieces, Sabrina, and Julia of Chicago, IL. He was preceded in death by his father, Frank.
He is also survived by his Aunt, Carol Plaskon of Bluffton, SC and his cousin Paige Nelson of Savannah, GA.
He will be inurned in the columbarium at St Francis Church next to his father. In lieu of flowers, please donate to Alcoholics Anonymous or NAMI (National Alliance of the Mentally Ill.)