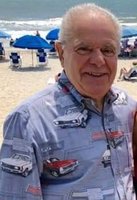 Norman "Norm" Galli
Norman J. Galli (Norm) passed away June 5 from serious heart disease.
Norman was a first generation Italian-American born on October 28, 1939 to Cesare and Pasqualina (Nenni) Galli. He was extremely proud of his Italian heritage and in 2012 he took his wife and daughter back to Italy to visit the village from which his parents had immigrated to America.
He was born, raised and spent most of his life in Detroit, MI. In 1967 he married Carole Stuart and they moved to Royal Oak, MI where she was a music educator and he was in retail sales.
In 2004 Norman and Carole, along with their only daughter, Nicole, who both survive him, moved to Hilton Head Island and Norman immediately took on the title of volunteer extraordinaire.
Whether it was painting, hammering, driving a van or pricing donations at the ReStore, Norman was always available for Habitat for Humanity. When the call went out for volunteers to go to Biloxi, Mississippi and then Tuscaloosa, Alabama after Hurricane Katrina, Norman was first in line.
For eighteen years he was an integral part of the Hilton Head Island Concours d'Elegance, devoting hundreds of hours to getting things set up for the "big show". For several of those years his wife and daughter also volunteered but only on show days. Norman was happiest when all three of them were working together.
Norman was passionate about cars. He always said that because he was born in the Motor City cars were in his DNA. He belonged to two car clubs here and still maintained membership in one in Michigan. He valued his cars and he treasured the "car guys" he met through his club memberships.
For several years he was active at All Saints Episcopal Church. Again, whether it was painting, ushering, washing dishes or selling garden tour tickets, Norman was ready willing and able and always did it with a smile on his face.
He and his wife were also volunteers for and strong supporters of the Junior Jazz Foundation and The Dixieland Jazz Society. Their absolute favorite place for food and entertainment on this island was The Jazz Corner at the Village of Wexford.
For those who knew him he will be remembered as a kind, caring and compassionate man who treated everyone with respect. A real gentleman's gentleman.
A celebration of his life will be held on Monday, June 21 at 2:00 pm at the Beach House in Port Royal Plantation on HHI.
Memorial donations may be made to Hilton Head Regional Habitat for Humanity, PO Box 2747, Bluffton, SC 29910, habitathhi.org.