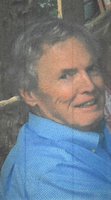 John Dunston Waddy II
John Dunston Waddy II entered the gates of heaven on Tuesday, May 25, 2021, after a long, extended illness. Born in West Hartford, Connecticut on December 17th, 1939, to Agnes Breen and John Dunston Waddy, John was educated at Avon Old Farms School and Babson College. After serving his Country in the U.S. Army, John began his career working as a financial advisor on Wall Street. As a career move, he relocated to Hilton Head Island in 1980 and later founded Island Getaway Rentals. John was a faithful member of Community Bible Church and a great patriot of his country. As an avid golfer, he was known to his many friends for his generous spirit and infectious laughter.
Surviving are his wife, Elsie Harpe Waddy and his three children: Sarah Waddy Brooks (Todd) of Hilton Head Island, John D. Waddy III of Atlanta, and Britt Heffernan (Jill) of Madison, Alabama. John's seven grandchildren were his special joy: Archer, Waddy and Susan Brooks; Kate Waddy and Avery, Emory and Hope Heffernan. Also surviving, is his special sister, Elizabeth W. Dillon (Rick) of West Hartford, Connecticut and several nieces, nephews and cousins.
A celebration of John's blessed life will be held at 11:00 am on Tuesday, June 1st at the Port Royal Beach Club. A private burial will be held in Dublin, Georgia at a later date.
In lieu of flowers, memorials may be made to Crescent Hospice, 1370 Browning Rd, Suite 120; Columbia, S.C. or to Community Bible Church, PO Box 119, Beaufort, SC 29901.