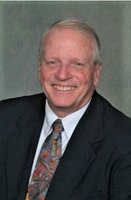 David Clinton Hoffmeister
David Clinton Hoffmeister, age 77, passed away at his home on Hilton Head Island, South Carolina on May 15, 2021.
Mr. Hoffmeister was born on April 12, 1944 in Jackson, Missouri. He was a 1967 graduate of University of Missouri-Rolla (known now as Missouri University of Science & Technology) with a degree in Chemical Engineering. He met and married Mary Kay Delaney in Chicago on October 17, 1974. He held executive positions for over 30 years in marketing and sales for a variety of global corporations, followed by a successful teaching career at DePaul University where, as Executive in Residence, he helped found the Center for Sales Leadership, one of the preeminent sales programs in the country. He was a three time winner of the Clio Award for Advertising Excellence Worldwide.
David was an avid golfer, just last year finishing a round at the one remaining course on Hilton Head Island he had yet to play. For over 30 years he was a member of Bob O' Link golf club in Highland Park, Illinois. He filled his time in retirement volunteering with Second Helpings of Hilton Head, South Carolina.
Mr. Hoffmeister is survived by his beloved wife of 46 years, Mary Kay, along with his son and daughter-in-law, Chris and Betsy of Essex Junction, Vermont; his son and daughter-in-law Jeff and Cynthia of Chicago, Illinois; his son and daughter-in-law Mark and Shannon of Los Angeles, California; his brother Dick of Colorado Springs, Colorado. He was a doting "Poppi" to four grandchildren Annie, Emmett, Delaney, and Lenora; and best friend to his faithful canine companion, Delilah. He will also be missed by his sister-in-law Lauren and her husband Tom Evans of Bluffton, South Carolina; his sister-in-law Eileen and her husband Tom Hughes of Granger, Indiana; his brother-in-law Dan Curtin of Chicago, Illinois; 9 nieces and nephews; and 16 great nieces and nephews. He was preceded in death by his parents Clinton and Iska Hoffmeister of Jackson, Missouri; his parents-in-law Richard and Eileen Delaney of Chicago, Illinois; and brothers-in-law Gerald and Rick Delaney.
David will be cremated; a celebration of life will be held at a later date. In lieu of flowers, the family welcomes any donations to Volunteers in Medicine of Hilton Head Island, South Carolina.