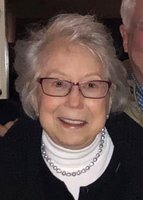 Patsy Ann Ricketts
Patsy Ann Ricketts, age 84, passed away peacefully in Hilton Head/Bluffton, SC on Thursday, April 29th, 2021.
Patsy Ann Hite was born on June 17th, 1936 in Hamilton, Ohio to Crystal Mae Allen and Charles William Hite. In 1954 Patsy married Leo M. Root Jr. and they settled in Deer Park, Ohio. Patsy divorced in 1981 and was then married to James L. Ricketts. They enjoyed retired life in Indian Hill, Ohio. Patsy was widowed in 2013.
Patsy loved cooking and entertaining for her several circle of friends. She loved bingo, poker club, horse and Indy car racing, sports and Super Bowl squares. If it involved gambling, she was involved!
She was the loving mother to Michelle Root Wylie (P.J.) and Martine Root O'Neill (Bryan); stepmother to Nancy Ricketts Becker (James) grandmother to Christopher, Shawn (Leah), Nicholas (Jane) Wylie and Lauren & Keenan O'Neill, and 'adopted' Francisco and great grandmother to Dallas O'Neill and Katherine Wylie. Patsy was preceded in death by husbands Leo M. Root, Jr. and James L. Ricketts.
Burial and services will be at Spring Grove Cemetery in Cincinnati, Ohio.
In lieu of flowers, donations can be made to Hospice Care of the Lowcountry in Hilton Head/Bluffton, SC (hospicecarelc.org).