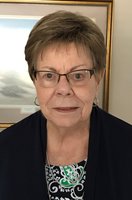 Joan Schulte
Joan Schulte, 88, of Hilton Head Island passed away May 5th, 2021 surrounded by family.
Joan was born January 21, 1933 in Clarksburg, WV, the daughter of Frank G. Maybury and Olive Katherine Calkins. She was a graduate of St. Mary's High School in Clarksburg, WV. Joan worked in the financial industry before meeting and marrying her husband of 61 years, Patrick Schulte. They moved from Fairmont, WV to Hilton Head Island in retirement 28 years ago. Joan was an active volunteer at St. Francis Thrift Shop for many years.
Joan is survived by her son and daughter-in-law Mark and Angela Schulte, her grandsons Bryan and Zachary Schulte and brothers Joseph Maybury and Robert Maybury. She was preceded in death by her loving husband Patrick Schulte, son James Patrick Schulte and brothers-in-law Joseph, James and Paul Schulte.
A Mass of Christian Burial will be celebrated Friday, May 14 at 10 am at St. Francis by the Sea Catholic Church. In lieu of flowers, please donate in Joan's memory to the American Heart Association at heart.org.